How Affiliate Marketing Works – Going Deeper
Affiliate Marketing Is More Than 9 Simple Steps
In my previous post I put up a great graphic offered by Rae Hoffman Dolan that shows 9 basic steps in the affiliate marketing process.
The graphic is a easy way to understand the basics in getting your head into affiliate marketing. And in that sense it is helpful in getting the newcomer to the business thinking more clearly about what is involved.
I thought I'd take a stab at filling in some of the blanks, given I have been at this for three years now and can shed some light on how to set up your expectations of what it takes to learn affiliate marketing.
Affiliate Marketing: Early Learning Phase
I think before you do anything you should do a lot of reading and observing.  That's because affiliate marketing is a sophisticated and tricky business that calls for technical knowledge of how the internet works along with business common sense on how to set up and run a real business.
The temptation is to dive right in and start launching sites and stuff online.  While that is a noble instinct, I think you are better off just watching how the game is played before you get on the field and try out a few shots.
How long should you wait?  That's up to you.  You will find plenty of people ready and willing to teach you for a price and I found it real hard to figure out who was right for me and who was just interested in taking money off my hands.
With some time just watching and seeing what people are saying about products and services, you will find out soon enough who is the real deal and who you should avoid.
Whatever you do, pick a program that fits your level of understanding.  Move to more sophisticated programs once you get a grasp of the basics.  For example I stayed away from Pay Per  Click at first because it was way over my head and it can cost a lot of money if you don't know what you are doing.  You might want to do the same.
I have a list of people listed in my sidebar that you can take a look at.  I wish I had known about these folks in my first few months and that would have saved me time and money.
So there is my rant about the early learning phase.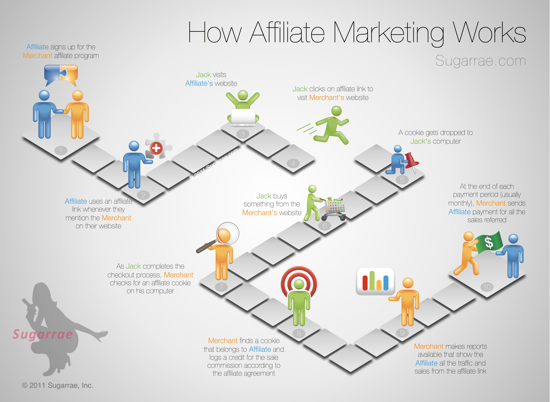 [Image provided courtesy of the Sugarrae affiliate marketing blog.]
Let's look at the steps of the How Affiliate Marketing Works graphic.
Affiliate Program Sign up
This first sounds simple enough, but it really is the last step in a multi-step process.
Before you can sign up with an affiliate program you have to decide what you want to sell.
Before you decide what you want to sell you have to do some market research.  More specifically you want to do some keyword research to determine the level of demand and the level of traffic your keywords can gererate.
All of this requires some experience and knowledge of what keywords are; how they work; where they are in the buy cycle and how you can use them to your advantage given the competition there is for them.
You are going to want to learn how to register a domain name. You are also going to want to learn how to set up a web site to go along with that domain name and you are going to want to create articles and content to put on that website in a way that optimizes what the search engines are looking for.
You get the picture?
This is a real business that takes time and effort to master.
Now we are still at step one.
The thing is this is a crucial step to get right because it makes a lot of difference in whether you stand a chance to succeed at making some money.
Affiliate Link
When you get through all the steps in phase 1 and succeed in getting approved, then you get your product or service affiliate link from an affiliate program.
This is a piece of code that has an identifier on it that is specific to your account with the merchant.  It tells the merchant that the traffic it is receiving with that code on it is traffic you have sent to the merchant.  If that traffic buys you get a commission.
You put that affiliate link on your website.  Your link can take different forms.  Sometimes it is a visual banner display that a visitor can click on. Other times it can be a product image that is clickable. Or it can be a text link in the copy of your site content in an article or in the product description.
Whatever the form, it is a link that sends your visitor to a merchant's site and with some luck or good pre selling you get that visitor to buy the product or service.
There is a whole body of information about masking or cloaking your affiliate link to prevent bad guys from stealing your link but that is something for another time.
Customer Visits Your Website
The next step is pretty straight forward.  You set up you website, get traffic and visitors are coming to your site.
Customer Clicks Your Link
You have a visitor arrive at your site. He/she reads what you have to offer and clicks on the banner, text link, product image and is sent to the merchant site.  Bravo! You got a click.
The Cookie
When the visitor clicks on one of your links, a piece of code is put on his/her computer with your identifier on it.  It is called a cookie. It tells the merchant who belongs to the link and who should get a commission. It also tells the merchant that the cookie is good for 30-45-60 days so that if that visitor doesn't buy right away you still have a shot at getting a commission.
Vistor Buys on Merchant's Site
You luck out and the visitor buys a product or service and your cookie is still on his/her computer.
Merchant Checks Cookie
When someone buys something from the merchant and the transaction goes through and is confirmed, that merchant looks for an affiliate link and a cookie to find out who referred the sale.
Merchant Confirms Cookie
When the merchant finds the cookie and ties it to the confirmed sale, that sale generates a commission for you the affiliate.  The amount is determined in the affiliate agreement which you have read and are familiar with.
Commission Report
A record of all your sales and commissions is filed in a report kept by the merchant in your affiliate account.
Payment Period
At the end of the payment period specified in the affiliate agreement, you will receive a payment by check or direct deposit or by whatever means agreed to in the affiliate agreement.  This payment reflects all the commissions generated for that period of time, usually on a monthly basis.
Conclusion: The Affiliate Marketing Process
This whole process takes time to learn and digest.
As was mentioned earlier, the research and set up of an affiliate relationship takes time and effort. You have to learn a whole bunch of things about keywords, domain names, web site set up and design and content creation.
There is the issue of getting traffic and getting links to your site that haven't been covered here but that you will also learn how to do.
Take Your Time
The whole point here is to take your time and learn to take in information in small digestible pieces.
It took me just about a year before I began to put things together and the next two years of trial and error to feel confident I could work in this business.
Now my experience was starting from total ignorance and going in the wrong direction more than once.
So just give yourself plenty of time and plenty of slack in learning how to do affiliate marketing online.