So What Is Affiliate Marketing?
How Affiliate Marketing Works
Here is a graphic that shows how affiliate marketing works.
The diagram below is a visual rendition of the process that unfolds when you sign up with a merchant to sell his or her product/service. It takes you through the various steps that occur and lead to your receiving a commission.
It was commissioned by Sugarrae, aka Rae Hoffman Dolan, a professional online marketer – ( I'm really tired of the term super affiliate since I've been taken by a few) – who is happy to see it propagate far and wide.
It's a great short explanation of the essence of affiliate marketing.
Sugarrae is the real deal and you should read what she has to say. You'll learn more in one paragraph from her than in some 80 or 100 page ebooks. Her site can be found at  http://www.sugarrae.com/
This graphic is one sample of that.
Enjoy
Click here to view a larger version.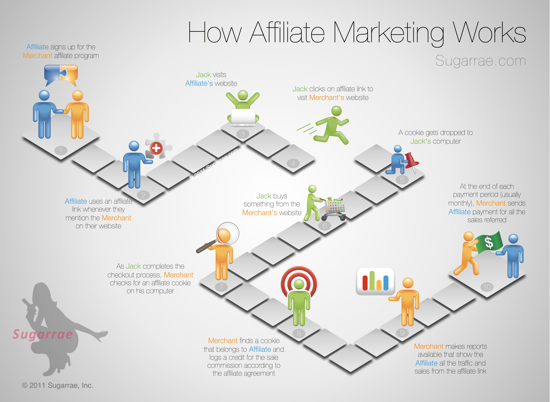 [Image provided courtesy of the Sugarrae affiliate marketing blog.]